data visualization, interactive
Data mapping project visualizing the ecosystem of research themes, groups, initiatives and projects comprising the current work of the MIT Media Lab and related entities.

Click here to visit the map and explore.

Works best on desktop. More information coming soon!


+ Programming: Jeff Mohr/Kumu
+ Information Architecture: David Sweeney
+ Art Direction: Olivia Verdugo
exhibition, identity, print
Concept branding, invitation suite, and brochure for exhibition Isaac Julien: Statues Never Die. This show was an immersive, five-screen video installation exploring the relationship between Dr. Albert Barnes and Alain Locke.

+ Type: NaN Jaune by Studio Triple and Nautica by Resistenza
+ Art Direction: Olivia Verdugo
+ Graphic Design: Olivia Verdugo, Pauline Nyren
+ Mockups: Pauline Nyren
+ Photography: Alexander J Rotondo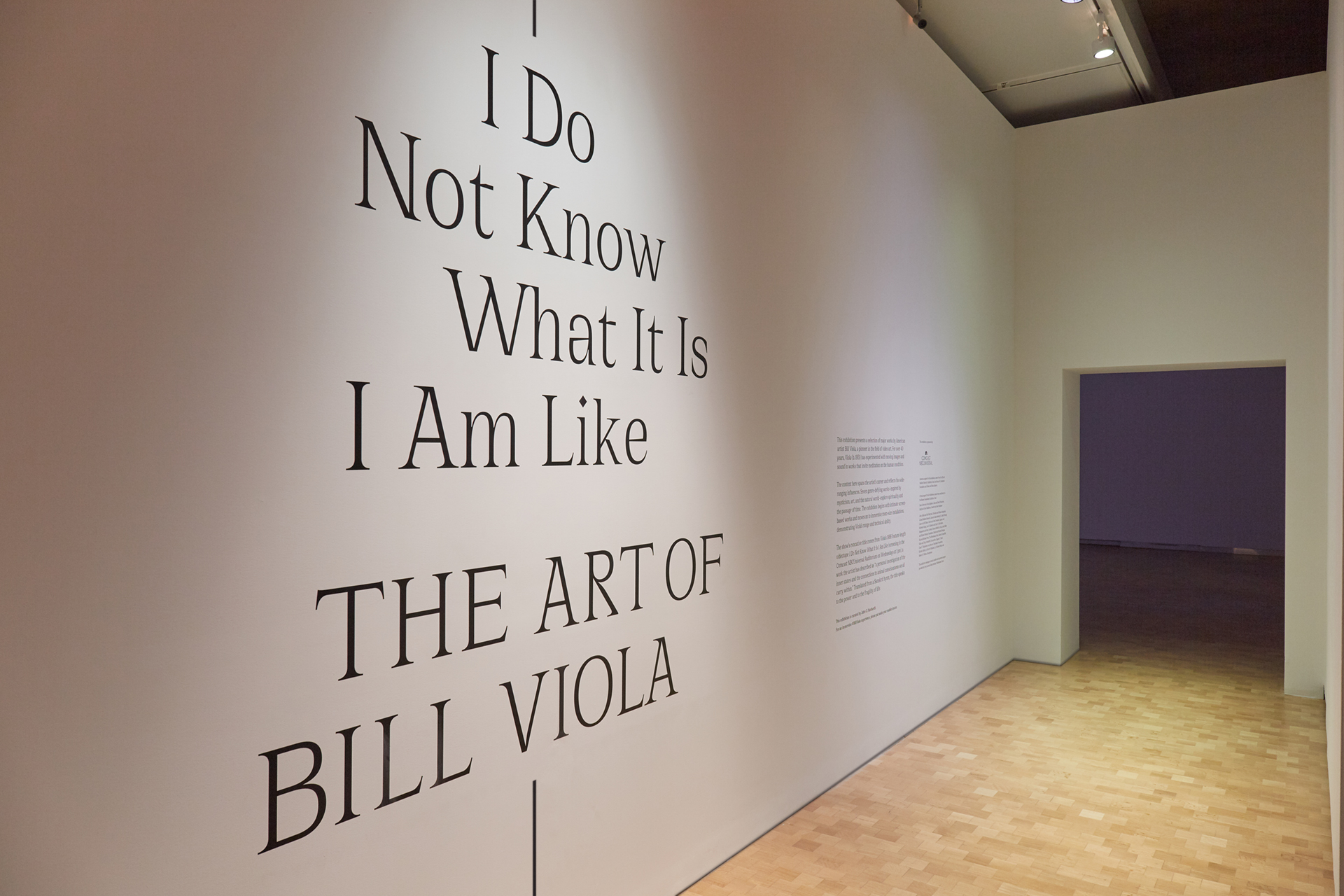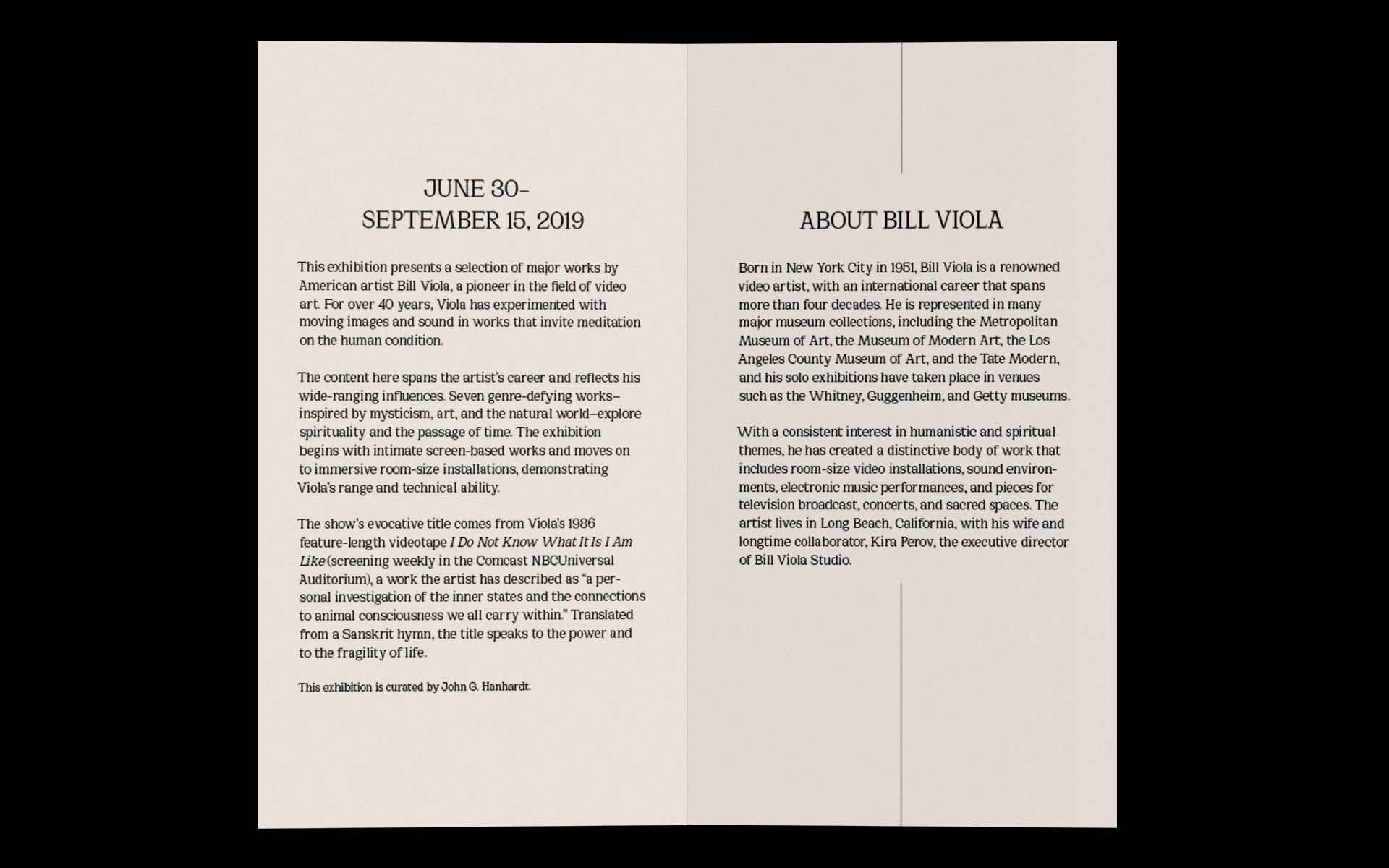 Exhibition identity, brochure, and invitation for I Do Not Know What It Is I Am Like The Art of Bill Viola at the Barnes Foundation.

American artist Bill Viola (b. 1951) is renowned for his genre-defying work in new media. His installations feature moving images that invite meditations on birth, death, spiritual themes, and the nature of human consciousness.

Viola's works frequently feature strongly centered compositions, which we chose to mirror in the exhibition identity. The brochure is printed economically in black ink on uncoated stock. The invitation features black spot UV ink on matte-coated black stock, evoking Viola's art's quiet, dark nature. Exhibition wall texts were executed through silk-screen printing directly to the wall and cut vinyl application.

+ Type: Cirka by Pangram Pangram
+ Art Direction: Olivia Verdugo
+ Graphic Design: Olivia Verdugo and

Pauline Nyren


+ Curator: John G. Hanhardt
+ Exhibition Design: Dan Kershaw
+ Exhibition Photography: Sean Murray
+ Invitation Photography: Ian Shiver
The Barnes partnered with Karma Agency to launch the marketing campaign "You'll never stop seeing the Barnes" in 2018. The scope was a branding framework unifying diverse Barnes experiences under a unique single-minded positioning, setting the Barnes apart from any other museum. The marketing creatives, which show compelling visual similarities between masterpieces & iconic locations/people in Philadelphia express Barnes's democratic vision: art is for everyone. This was also meant to break down perception barriers around the Barnes being inaccessible or "not for me" by showing that art is everywhere. The media mix consisted of traditional advertising (print, TV, radio, outdoor) to generate awareness while digital initiatives (social, email, website landing page) drove audience engagement, converted awareness into visits, & unpacked stories of all the ways one will never stop seeing the Barnes.
Read more at barnesfoundation.org/seeingthebarnes
+ Type: Calibre by Klim Type Foundry
+ Creative Direction: Karma Agency
+ Art Direction & Graphic Design: Olivia Verdugo
+ Portrait Photography: Michael Perez
exhibition, identity, print, advertising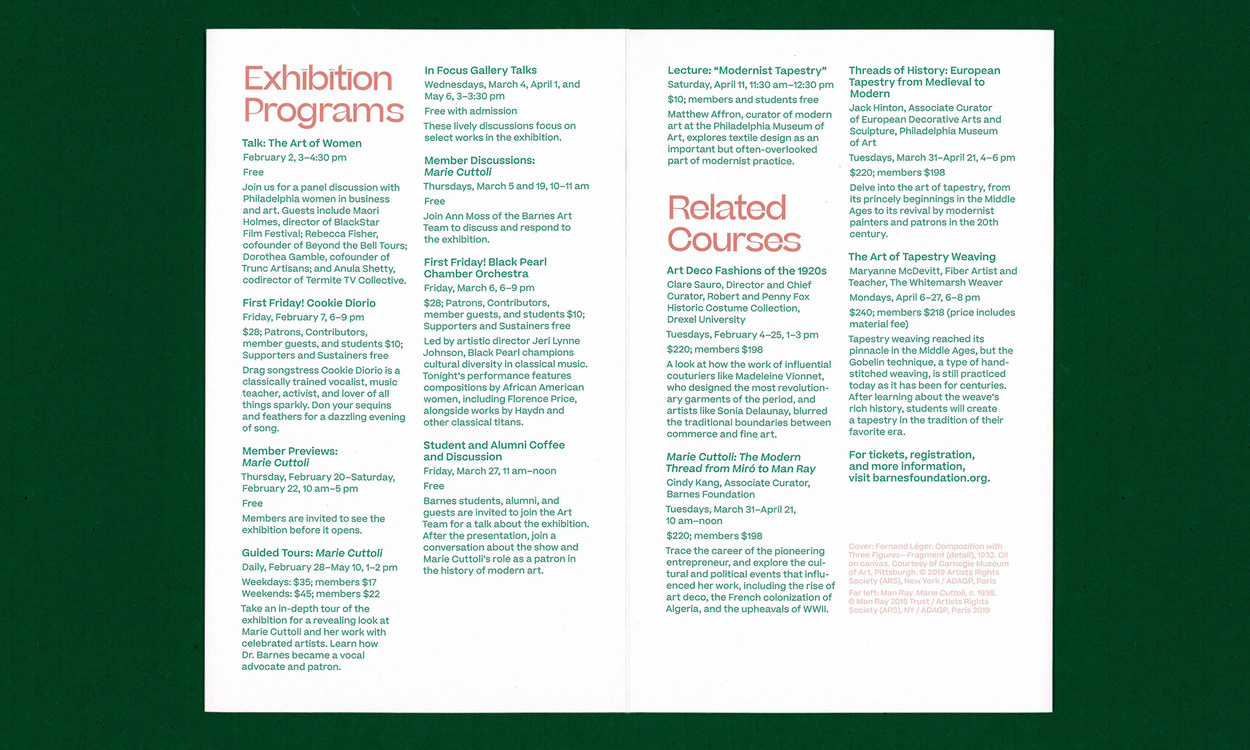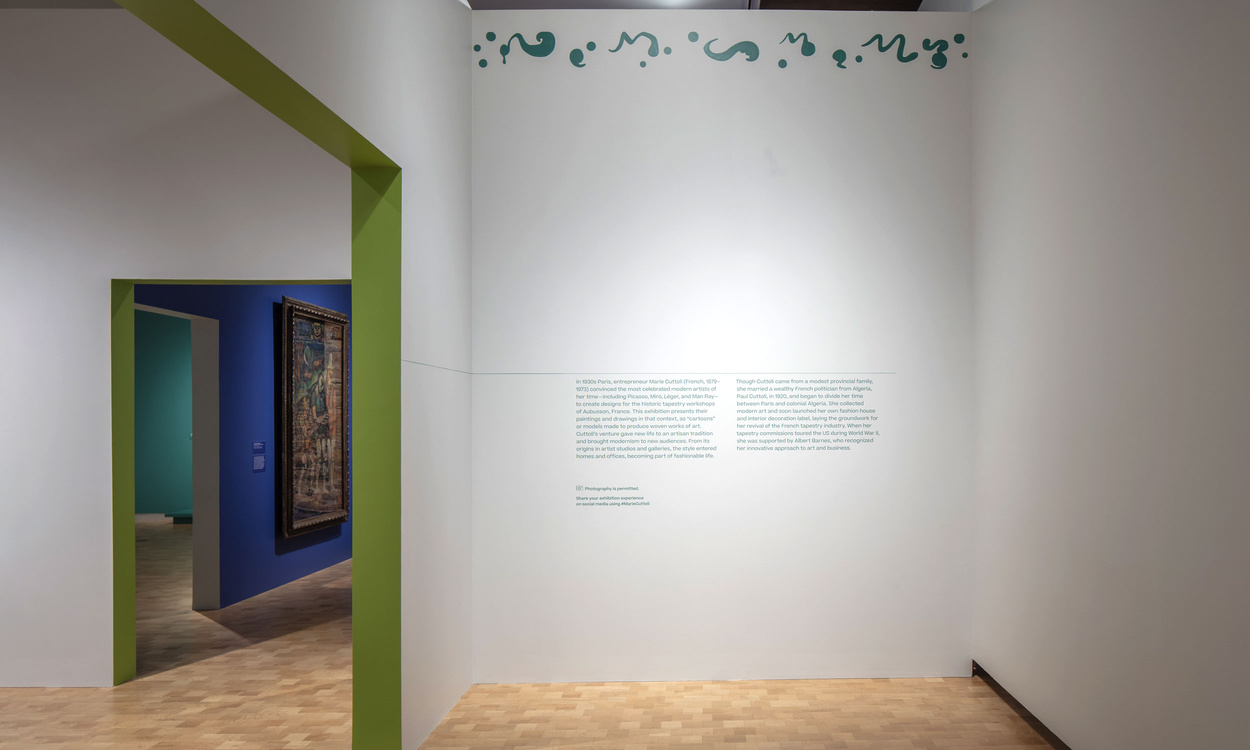 Exhibition identity, brochure, ad campaign, and invitation for
Marie Cuttoli: The Modern Thread from Miró to Man Ray
at the Barnes Foundation.
In 1930s Paris, leading modern artists experimented with tapestry design, thanks to pioneering entrepreneur Marie Cuttoli (1879–1973). Cuttoli lived between Algeria and Paris and collected work by artists such as Pablo Picasso, Joan Miró, and Georges Braque. This exhibition traces her career, from her early work in fashion and interiors to her revival of the French tapestry industry.
Read more at
barnesfoundation.org/whats-on/exhibition/marie-cuttoli
+ Type: Beatrice by Sharp Type
+ Art Direction & Graphic Design: Olivia Verdugo and Pauline Nyren